Details

Written by

Ika

Category: Achievement
Hits: 693
Students of Faculty Economics and Business Universitas Gadjah Mada once again achieved national awards. Two UGM representative teams successfully won two awards in the Accounting Paper Competition Diponegoro Accounting's Harmony (APC DASH) 2019 which was held in Universitas Diponegoro, Semarang on September 27-28. APC is a branch of paper writing competition to welcome the birth of reliable accountants who are able to adapt to the times. With the theme "Embracing the Roles of Accountants to Achieve Golden Indonesia in 2045", the competition is expected to contribute to the improvement of accountant competencies in the future.
Details

Written by

Ika

Category: Achievement
Hits: 481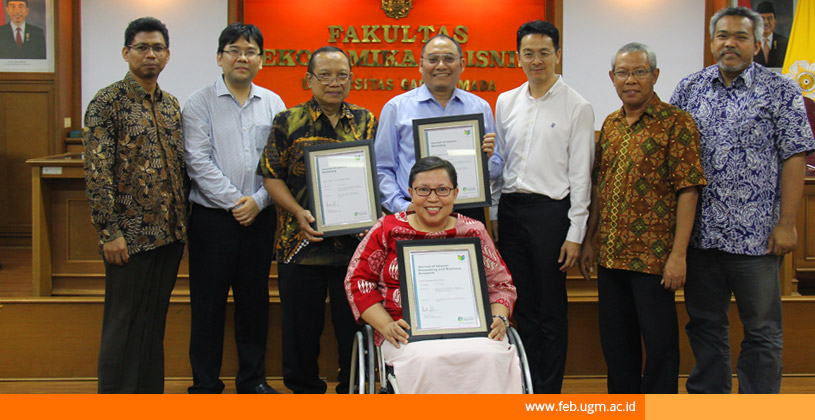 For more than 25 years, Emerald Publishing, United Kingdom (UK) has given awards in the form of the Emerald Literati Award as a form of appreciation to writers for scientific research.
This year, an article, written by Wuri Handayani, Ph.D (Lecture at Faculty of Economics and Business UGM), entitled "A Bourdieusian Perspective in Exploring the Emergence and Evolution of the Field of Islamic Microfinance in Indonesia" published in the Journal of Islamic Accounting and Business Research was selected as the winner of Emerald Literati Award 2019 in "The Most Exceptional Piece of Work" category.
Details

Written by

Ika

Category: Achievement
Hits: 1065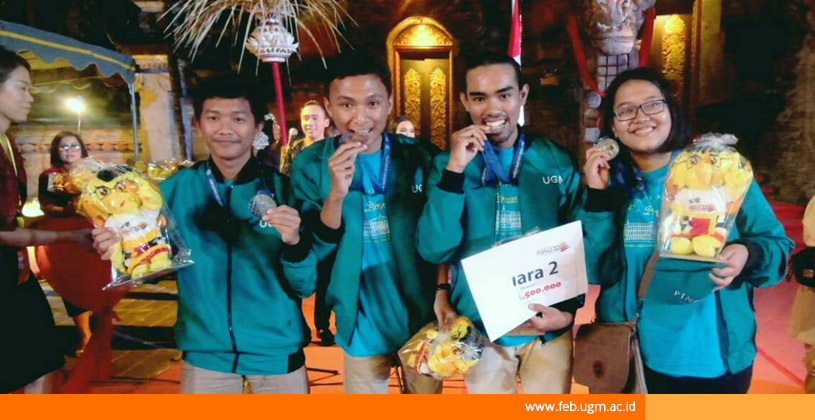 The Faculty of Economics and Business, Universitas Gadjah Mada (FEB UGM) at this time should be proud. One of the students succeeded in winning the champion at the National Student Scientific Week (PIMNAS) at the 32nd PIMNAS event on 27-30 Agustus 2019 which took place at Universitas Udayana (UNUD), Bali.
Details

Written by

Leila

Category: Achievement
Hits: 516
The brilliant achievement was again inscribed by students of the Faculty of Economics and Business at Universitas Gadjah Mada (FEB UGM) in the Student Formula Society of Automotive Engineers (SAE) Competition 2019 that was held at the Ecopa Arena, Shizouka, Japan. Made Bilan Asasia Binov (position: number 3rd from left), Management IUP class 2016 student as Deputy Captain in the Managerial, Business Presenter, and Racing Driver Team of the Bimasakti Pertamax Turbo Racing Team UGM who also contributed to the achievement of JAMA Chairman Award, No. 1 Student Formula Team in Indonesia, Top 6 Overseas Team, Top 8 SkidPad, Top 5 Presentation, Top 3 Overseas Design, and Outstanding Performance Award. This prestigious competition which was held on August 27-31 is a place for students to design, build and develop formula-type cars on a small scale.
Details

Written by

Ika

Category: Achievement
Hits: 516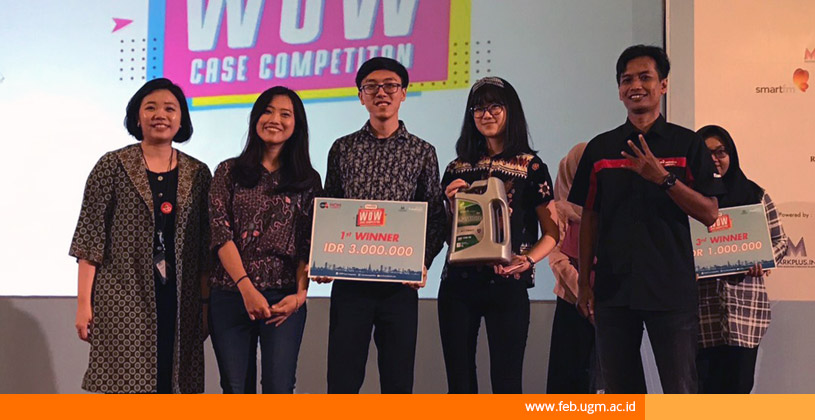 'Quant', a team from Universitas Gadjah Mada, consists of Dharmawan Santosa (Economics 2016), Chyntia Deviani Rahardjo (Management-IUP 2018) and Triyuni Lestari (Psychology 2018) was announced as the '1st winner' of Pertamina Lubricants WOW Case Competition 2019 Yogyakarta Region, which is part of the Indonesia Marketeers Festival 2019 on 14th-15th August 2019 at the Convention Hall UIN and Royal Ambarrukmo Yogyakarta.