Faculty of Economics and Business Universitas Gadjah Mada (FEB UGM) was established in 1955 as a result of the reorganization of Faculty of Law, Economics, and Social Politics.
FEB UGM has approximately 5,500 students and it is supported by more 200 faculties and professional staffs. It offers degree programs ranging from undergraduate, master, to doctoral level in the following study concentration areas, such as:
Monetary Economics
International Economics
Public Economics
Development Economics
Finance
Marketing
Strategic Management and Human Resources
Knowledge and Innovation
Entrepreneurship
Accounting Information System
Auditing
Management Accounting
Financial Accounting
Public Accounting and Taxation
Sharia Accounting
The study programs are offered by Department of Accounting, Department of Economics, and Department of Management. The departments are supported by highly competent faculties, mostly having doctoral degree from reputable overseas universities. The study programs are all awarded "A" by the National Accreditation Body of Higher Education (BAN-PT). FEB UGM widely acknowledged as the best in the country for its profile, intense academic resources, system, and process.
Dean's Greeting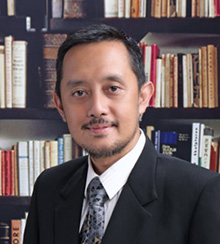 Visual Identity
Visual identity guide of Faculty of Economics and Business UGM