FEB UGM Signed Memorandum of Understanding with the International Compliance Association (ICA)
Details

Written by

Rizal

Category: Cooperation
Hits: 224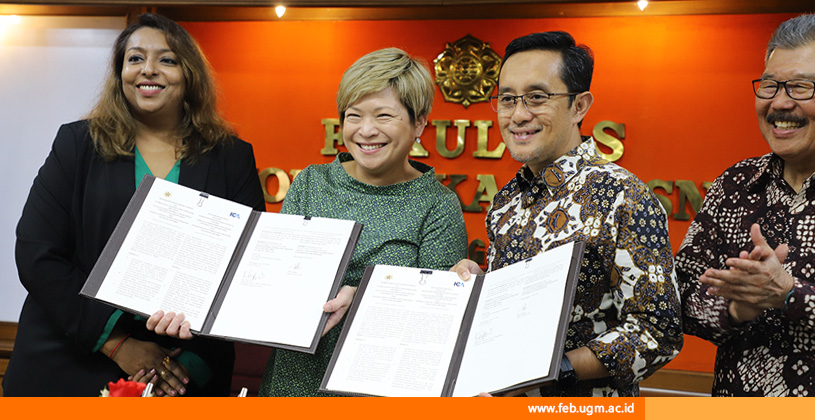 Friday (25/08), the Faculty of Economics and Business, Universitas Gadjah Mada (FEB UGM) signed a memorandum of understanding with the International Compliance Association (ICA). ICA is an organization dedicated to promoting compliance with financial crime regulations. The signing took place in the Kertanegara Room at FEB UGM. Dr. Lim May May and Shandya Nair Vijian represented ICA at this event.
Meanwhile, the representatives from FEB UGM included Prof. Dr. Didi Achjari, S.E., M.Com., Ak., CA., serving as the Dean; Gumilang Aryo Sahadewo, S.E., M.A., Ph.D., as the Vice Dean for Research, Community Service, Cooperation, and Alumni; and Prof. Tandelilin Eduardus, M.B.A., Ph.D., as the Head of the Master's Program in Management (Jakarta Campus). Several lecturers from the Department of Accounting were also present, including Wuri Handayani, S.E., Ak., M.Si., M.A., Ph.D., Arika Artiningsih, S.E., M.Acc., M.Com., M.Res., Ph.D., and Rijadh Djatu Winardi, S.E., M.Sc., Ph.D., CFE.
Next, both parties explained the significance of this partnership. Prof. Tandelilin expressed his hope that this collaboration would enhance the academic community's knowledge of compliance, especially for professionals in the private and government sectors. In line with this, Prof. Didi stated, "This certification will provide students with more insights before they enter the workforce."
On the other hand, from ICA, Dr. May May aspired for this collaboration to create a capacity-building framework for understanding compliance and anti-money laundering. Sandya echoed this goal, hoping this partnership would become a more holistic platform for both sides. Furthermore, the three faculty members from the Department of Accounting at FEB UGM who attended emphasized the importance of this collaboration. Given the numerous corruption cases in Indonesia, there is a need for a strong emphasis on compliance and governance for companies.
Subsequently, the event moved on to the main agenda, which was signing the memorandum of understanding. Prof. Didi represented FEB UGM, while ICA was represented by Dr. May May. This symbolic signing marked the beginning of cooperation between the two parties. Afterwards, souvenirs were presented to the ICA representatives. The event ended with a group photo session featuring all the participants.
Reportage: Rizal Farizi