Table Tennis Competition Enlivened the 68th Anniversary Celebration
Details

Written by

Rizal

Category: News
Hits: 129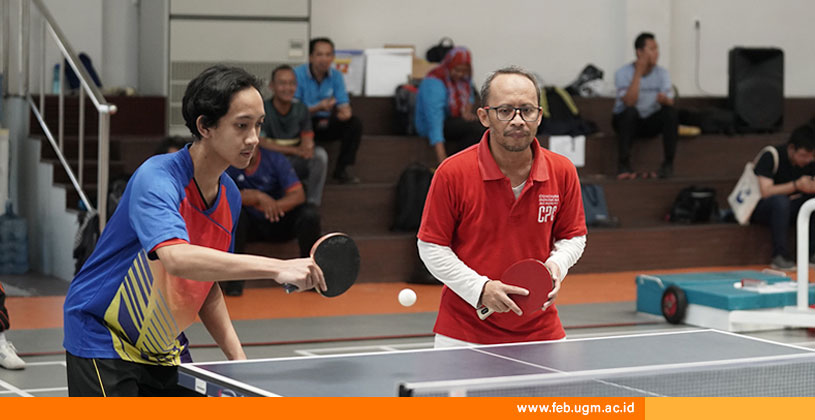 The excitement of table tennis matches reverberated in the Leadership Hall of the Master of Management Program on Tuesday (29/08). This event was one of the sports disciplines competed in to celebrate the 68th anniversary of the Faculty of Economics and Business, Universitas Gadjah Mada (FEB UGM). On this occasion, eight teams were participating. These teams, composed of FEB UGM academic community members, included Topspinner, Strokes, Backhand, Smash, Serve, Forehand, Drive, and Chop.
The competition began with the preliminary rounds. From the preliminaries, four teams earned the right to advance to the semifinals: Topspinner, Forehand, Drive, and Chop. Ultimately, two groups emerged to compete in the final round: Forehand and Drive. The decisive match was intense, and in the end, with a narrow score of 21-20, Team Forehand emerged as the champions of the table tennis event. Team Drive secured the second position in this competition.
The competition was not yet over. A final round was held to determine the team awarded the 3rd place title. A competitive match unfolded between Topspinner and Chop. Ultimately, Team Topspinner secured the 3rd place title with a score difference of 21-19. This match marked the end of the table tennis competition. Participants then took a group photo to capture the camaraderie of the event.
Congratulations to Team Forehand for winning the table tennis competition at the 68th Anniversary of FEB UGM!
Reportage: Rizal Farizi
See more events: Agenda Dies Natalis FEB UGM