Three FEB UGM Student Teams Win the 2023 PKT-GAMA BCC Competition
Details

Written by

Rizal

Category: Achievement
Hits: 274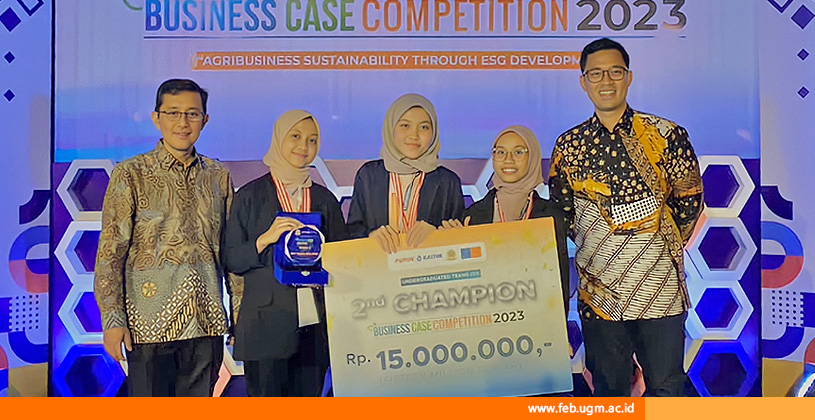 Saturday (08/26), the Alumni Family of the Faculty of Economics and Business, Universitas Gadjah Mada (KAFEGAMA), in collaboration with the Faculty of Economics and Business, Universitas Gadjah Mada (FEB UGM) and PT Pupuk Kalimantan Timur (PKT), held the grand final stage of the Pupuk Kalimantan Timur - Gadjah Mada Business Case Competition (PKT-GAMA BCC) 2023. The event's pinnacle took place in the Auditorium of FEB UGM, 8th floor of the Learning Center Building, as the final round of the competition that had been ongoing since May 2023 and was participated in by more than 200 teams of 600 undergraduate and master's students from all over Indonesia.
In this year's competition, two teams from FEB UGM achieved success as follows.
Mandalika Team, consisting of Rohinun (Economics 2021), I Gusti Ayu Maresta Amrita Puspa Pujawati (Economics 2021), and Alya Nabila Aqsha (Economics 2021), secured second place in the undergraduate category
Prime Team, comprising of Farid Zain Pradana (MBA Yogyakarta 2021), Airin Shaula Ariani (MBA Yogyakarta 2021), and Purwaditya Yuwana (MBA Yogyakarta 2021), secured second place in the master's category
Selat Sunda Team, comprising of Farah Nabila Luthfiyya (MBA ASEAN Master in Sustainability 2022), Ria Irma Pratiwi (MBA ASEAN Master in Sustainability 2022) and Yuanda Pangi Harahap Yuanda Pangi Harahap (MBA ASEAN Master in Sustainability 2022) secured third place in the master's category.
One Participant's Perspective: Competing Amidst Busyness
We had the opportunity to interview one member of the Mandalika Team, Rohinun (Economics 2021). The girl, often called Inun, shared that her team had to go through three stages during the PKT-GAMA BCC 2023: the preliminary, final, and grand final. The preliminary round involved the submission of proposals and creative video presentations.
Afterwards, they advanced to the final round held in Jakarta, along with 11 other teams. The final stage required the submission of pitch deck presentations and creative video presentations for solving a business case. "Alhamdulillah (thank God), we were declared qualified for the grand final stage (held at FEB UGM) with a new case to be solved. We only needed to submit a pitch deck presentation without a video at this stage. However, the given case was quite challenging, challenging us to create the best pitch deck," Inun recounted.
Inun did not expect to win the competition because initially, she only sought the experience of solving business cases from large companies. Moreover, she and her team were busy preparing for the admission of new students, so they could only spare a little time for the competition. This young woman shared that her team even had to complete the pitch deck and creative video presentation inside a train in the final stage. "Fortunately, we were able to finish it on time, even though we had to create and edit the video inside the train," she said.
In the preparation process for this competition, her team was guided by Arief Surya Irawan, S.E., M.Com. Ak., CA., a lecturer in the Department of Accounting at FEB UGM. Then, Inun provided tips for friends who wanted to participate in business case competitions. "Don't be afraid to think out of the box. Don't hesitate to bring out your ideas, whatever they may be. Furthermore, make the most of the available data and seek idea references from various sources, including business competitors," she expressed. As a closing remark, Inun emphasized the importance of capturing the judges' attention in the first ten seconds of the presentation. She also stressed the need to keep trying as long as there are opportunities.
Congratulations on the achievements, Mandalika Team and Prime Team!
Reportage: Rizal Farizi