Physical Activity is the Key to Maximum Work Performance and a Happy Life
Details

Written by

Adella

Category: News
Hits: 133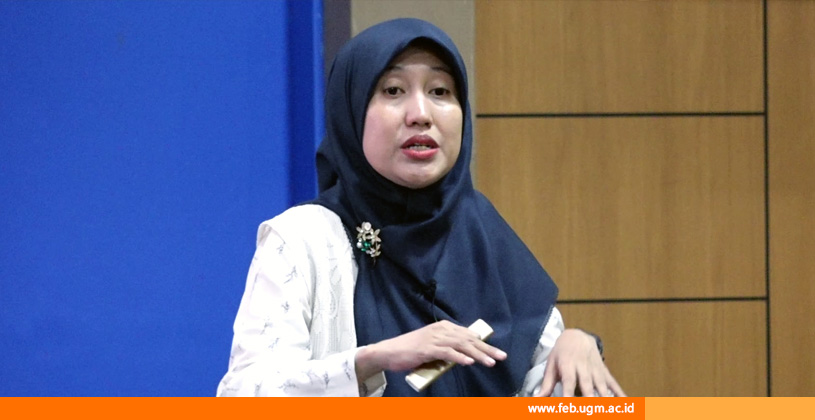 Friday (8/9), the Faculty of Economics and Business, Universitas Gadjah Mada (FEB UGM) held a Self-Development activity for Education Personnel with the topic "Tips/Strategies for Physical Activity in the Work Environment to Increase Productivity and Well-being". This event was held offline in the Function Hall on the 8th floor, FEB UGM Learning Center Building and broadcast online via Zoom Meetings. This activity presented Prof. dr. Novita Intan Arovah, M.P.H., Ph.D., Lecturer at the Faculty of Sports and Health Sciences, Yogyakarta State University, as a resource person. Bayu Sutikno, S.E., M.S.M., Ph.D., Vice Dean for Academic and Student Affairs FEB UGM, gave a speech to start the event.
The components of human well-being are divided into several types, including emotional, spiritual, physical, social, financial and environmental. There are many ways to improve well-being, such as exercise, sleep quality, mental health, and physical activity. When our muscles move, changes occur in cells that will improve blood circulation, improve the quality of muscle cells, and affect bone and heart density, the immune system, respiratory system and digestion. "By improving all these things, our body composition will be more ideal. Reduces the risk of health problems," she explained.
Prof. Novita provided physical activity recommendations based on age. At 18-64, the working productive age, an individual can do 150-300 minutes of moderate-intensity aerobic physical activity or 75-150 minutes of high-intensity aerobic physical activity. Additionally, they can do strength training at least twice a week. For individuals who spend much time at the office and don't have time to exercise after work, Prof. Novita recommends stretching while sitting in a chair. The event participants who attended offline and online practised these movements with the guidance of Prof. Novita.
Maintaining physical health is very important considering that workers spend most of their time at work, so lifestyle at work dramatically impacts health. Workers who are physically and mentally healthy tend to be more productive and have high levels of job satisfaction. An institution can launch health programs such as sports clubs, regular outbound activities, and sports competitions to achieve this. Offices can also enforce recommendations for wearing equipment to support health, such as standing desks, posters encouraging climbing stairs, and sports facilities. The event ended with a question and answer session, which was listened to enthusiastically by both offline and online participants.
Reportage: Adella Wahyu Pradita